[General Features]
Sakai Takayuki Knives has been cultivated through a long 600-year history by skilled craftsmen in Sakai.
The Byakko (White Tiger) blade is made to put soft kitchen knife iron on Yasuki's traditional Nihonko or Hagane --- Shiroko / White Paper No.1 Steel ---
which has been widely used for a very long time in Japan. The material makes extreme sharpness, very good edge holding and high working hardness.
You can grind it to extreme sharpness, which it retains for a long time.
The blade is particularly suitable for the gentle preparation of foods though you need to treat the blade to prevent from rust.
Speaking to the Ebony Wood handle, the Japanese-Style Octagonal figure fits better comfortably to your hand.
The ebony buffalo tsuba equipped to the both top and bottom of handle represents high-quality and excellent durability, that means made for professional originally.
(Please be noted that the buffalo tsuba (guard) is a natural product that may possibly be different from the image in color.)

[Product details]
- Blade Steel Type : High Carbon Steel [Shiroko or White Paper 1 steel]
- Blade Edge : Single-Edged for right handed persons
- Handle Material : Ebony Wood with a Buffalo horn ring at both ends
- Saya : Kuroishime Saya Sheath is contained
- Brand NEW
- Made in JAPAN
*** Please be noted that this series may take 2~4 weeks to restock if it should not be available.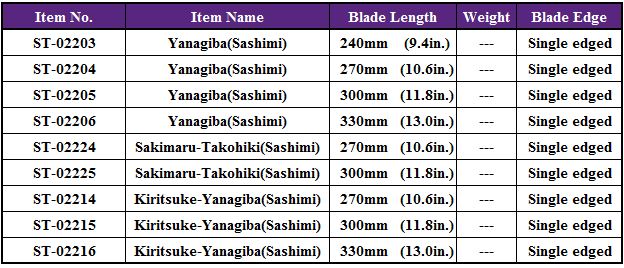 Express & Secure Shipping Service
Most of countries in the world is likely to be available for our shipment. We have a lot of delivery experience to the listed countries.

FedEx and EMS(Japan Post) are now available for Faster and more Secure delivery for your country.
Please check the expected delivery time >> JapanPost | FedEx
- The tracking number by Japan Post can be traced in a few days after shipment in a web site as follows,
"https://www.track-trace.com/post" or "here"
- The tracking number by FedEx can be traced in a few days after shipment in a web site as follows,
"https://www.fedex.com/en-jp/home.html"
- Please be noted the following in advance, because FedEx has a few requirement in some countries.
(1) In the U.S. and Canada, delivery to any PO Box is unavailable by FedEx. If your address contains PO Box, we may ship by EMS(Japan Post).
(2) In Russia, delivery to any personal address is often unavailable. If your address is not enterprise, we may ship by EMS(Japan Post).