up to 25% OFF & Special Present
The SUPER WINTER SALE is extended until Jan. 25th.
Don't miss the good opportunity !
(1) 5.00% OFF coupon for All the items
Coupon code : " 20NYS "
Please use this code at the checkout stage.
(2) 3X REWARDS POINTS on New subscription & Any order
You earn many rewards points at each stage - subscribing, ordering and following SNS.
Check the details >
(3) Shipping US$12.00 OFF for ALL Shipping Service incl. EMS & FedEx
Coupon code : " SHIP12FREE "
Recommended for customers to ensure arrival in time. Use the code at the checkout stage.
(4) up to 7.00% OFF of Volume discount
You'll successfully get the discount on orders up to 7% OFF as our present
if the total amount of your order meets the amount condition in incremental steps.

(5) up to 5.00% OFF for Repeat customers
You're eligible to get up to 5.00% OFF according to the number of purchasing on the past.
Only registered customers are eligible.

(6) Free Shipping (up to 8.00% OFF equiv.) on Orders over US$250 Worldwide
If you'd like to make sure shorter delivery time, use the express service : FedEx and EMS.
Please be noted that the service may not be applied to a few exceptional region.
(7) Present of Popular & Stylish Damascus Knife on Orders over USD799 [Limited]
You're offered the following beautiful damascus knife present as our gratitude.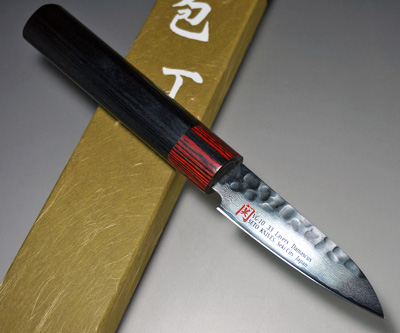 Please be noted that the present is in limited supply.
Check the item >

Click one of the pictures below to start finding your best knife!
Thank you for visiting our store !
We'd be very happy to help you find the best knife for Gift and for your best Cooking Experience.
Sincerely,
The Hocho-Knife Store Manager and All the Staff

Return to TOP of this page >