Save up to 30%OFF + Shipping $10 Discount coupon

The pre-Black Friday Deals is now held until November 28.
Don't miss this good opportunity before the full-fledged Black Friday when many items may be backordered.
(0) Shipping USD10.00 OFF coupon for ALL Items & ALL Shipping Service.
Coupon code : " SHIP10FREE "
Available for ALL Shipping Method : FedEx (Priority, Economy), Japan Post (Expedited, Standard, Economy) !
Please use this code at the final stage of checkout. Min. purchase volume is $50 in an order.

(1) FedEx 50% OFF Campaign to WORLDWIDE
The FedEx shipping fee is $19~ = 50% less than ever, and has successfully gotten close to the fee of Postal EMS service.
Fedex Priority : 1~3 business days
Fedex Economy : 3~5 business days of Express & Secure Delivery
Check the supe fast delivery time table >
(2) 5.00% OFF coupon for all the customers
Coupon code : " SFS11 "
Please use this code at the final stage of checkout.
(3) up to 7.00% OFF of Volume discount
You'll successfully get the discount on orders up to 7% OFF as our present
if the total amount of your order meets the amount condition in incremental steps.

(4) up to 5.00% OFF for Repeat Customers
If you purchased in the past, you're eligible to get 2.00~5.00% OFF according to the number of purchasing.
Please be noted only registered customers are eligible. You're recommended to make your own account first!

(5) Free Shipping (up to 8.00% OFF equiv.) on Orders over USD250 Worldwide
If you'd like to make sure shorter delivery time,
use the express service below such as FedEx, DHL and EMS(by Japan Post).
Please be noted that the service may not be applied to a few exceptional region.
(6) Present of Popular & Stylish Damascus Knife on Orders over USD799 [Limited]
You're offered the following beautiful damascus knife present as our gratitude.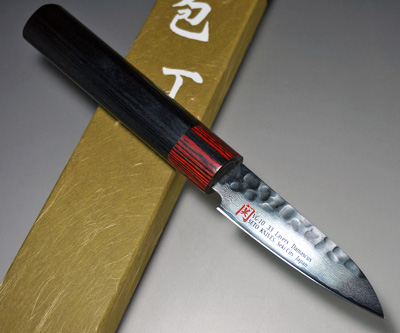 Please be noted that the present is in limited supply.
Check the item >

Click one of the pictures below to start finding your best knife!
Thank you for visiting our store !
We'd be very happy to help you find the best knife for Gift and for your best Cooking Experience.
Sincerely,
The Hocho-Knife Store Manager and All the Staff

Return to TOP of this page >