[General Features]
Misono is one of the most well-established knife producers of Western-style Japanese professional chef's knives for decades in Seki-city of Japanese sword capital with 800 years tradition.
Using high carbon pure steel from Sandvic Sweden, each blade is hand forged very carefully to create a masterpiece of "Hagane Hocho"
that features durable sharp edge, longer edge retention and easy re-sharpening.
Please note that these are carbon steel blades and they will oxidize over time. This is normal for this type of steel.
They will also rust if left wet so dry them after each use. Some users apply a bit of oil to the knife after drying to keep the knife from rusting.

When you cut onion, its acid ingredients might cause blade discoloring or the rust.
But the rust part on the blade does not affect foods. It is the character of carbon steel blade, and is not a defect.
For the daily maintenance, to prevent from getting rust, after you wash the knife, need to be wiped and keep dry.

The series also come with an attractive engraving that makes these knives unique; very interesting and beautiful DRAGON engraving.
We highly recommend the Knives for your best cooking as well as GIFT for Anniversary!


[Product details]

Blade Steel Type: : High Carbon steel (Hagane)
Handle Material : Black pakka wood
Brand NEW
Made in JAPAN
Please be noted that this series need more handling time (5~10 business days) than others because the edge of the blade has to be hand-finished (fine-grinded by hand) one by one after receiving your order.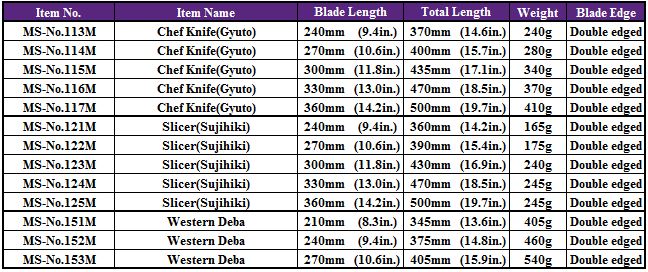 Express & Secure Shipping Service
Most of countries in the world is likely to be available for our shipment. We have a lot of delivery experience to the listed countries.

FedEx and EMS(Japan Post) are now available for Faster and more Secure delivery for your country.
Please check the expected delivery time >> JapanPost | FedEx
- The tracking number by Japan Post can be traced in a few days after shipment in a web site as follows,
"https://www.track-trace.com/post" or "here"
- The tracking number by FedEx can be traced in a few days after shipment in a web site as follows,
"https://www.fedex.com/en-jp/home.html"
- Please be noted the following in advance, because FedEx has a few requirement in some countries.
(1) In the U.S. and Canada, delivery to any PO Box is unavailable by FedEx. If your address contains PO Box, we may ship by EMS(Japan Post).
(2) In Russia, delivery to any personal address is often unavailable. If your address is not enterprise, we may ship by EMS(Japan Post).