[General Features]
The 33 Layered Damascus blade and it's beautiful design must impress you by the details of it's well calculated, meticulous design with a seriously sharp edge, excellent edge retention and a light center balanced feel.
This Japanese SG2 (Super Gold 2) micro carbide powder stainless steel is one of the hardest blade steel in the world, min.63 Rockwell scale(HRC).
That is enveloped by 16 layers on each side with soft and hard stainless steel, to create total 33 layer damascus pattern.
These masterpieces are carefully finished by the blacksmith Shigeki Tanaka for their top-rate cutting performance.
The series realize long-lasting performance due to their rustproof blades, bevelled on both sides, and waterproof handles, making them the first choice among professional chefs.
Some Michelin 3-star chefs in Europe gave a high marks to the Tanaka knives, and we recommend this high-class kitchen knife series for professional chefs to enhance their art of cooking as well as for Perfect Gift.
[Handle]
The beautiful handle mounted with a nickel silver ferrule is made of waterproof desert ironwood, the densest wood on earth.
Therefore it is difficult to process the material by machine, that's why the handle is made & finished manually by the blacksmith as well as the blade.
The pinning of the handle scales with rosette-shaped mosaic pins makes the knives real eye-catchers.
The handle is so easy to grip and it's weight is very well balanced.
[Use & Care]
Please do not use the knife in a twisting motion.
This powder steel won't get rust easily, but please take care the blade to prevent from moisture when storing it because the color could change turn to black on the blade.
[Product details]
- Blade Steel Type : 33 Layers Damascus Hammered Stainless Steel, SG2 Alloy Core
- Blade Edge : Double-Edged (50/50 balanced, available for left-handed-right-handed)
- HRC (Hardness on Rockwell scale C): min.63
- Handle Material : Desert Ironwood with a nickel silver ferrule
- Box : premium Paulownia (Kiri) Wood Box
- Brand NEW
- Made in JAPAN
*** The images in this page are of the sample products. Colour, weight, pattern and size may differ because each product is handmade.
*** Please be noted that this series may take 2~3 months to restock if it should not be available, because the hand crafted stock is extremely limited.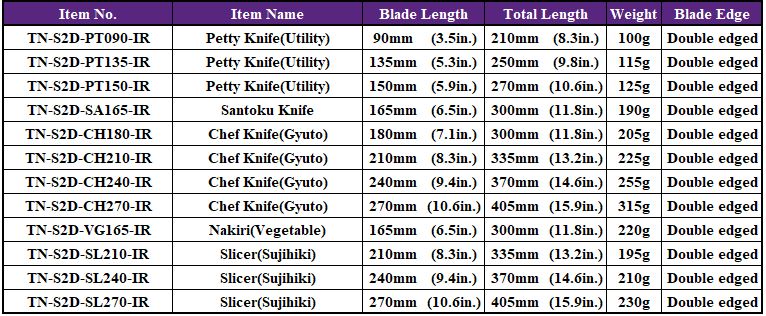 [About Shigeki Tanaka]
Tanaka knives are made in a traditional workshop at Miki City in Hyogo by Shigeki Tanaka and a small crew of his employees.
Each Tanaka knife is hand-forged in the traditional way, as it has been done for hundreds of years in Japan.
The blacksmith is turning out excellent knives with unsurpassed Japanese blade knowledge and expertise handed down from generation to generation for centuries.
Express & Secure Shipping Service
Most of countries in the world is likely to be available for our shipment. We have a lot of delivery experience to the listed countries.

FedEx, DHL and EMS(Japan Post) are now available for Faster and more Secure delivery for your country.
Please check the expected deliivery time >> FedEx | DHL | JapanPost
- The tracking number by Japan Post can be traced in a few days after shipment in a web site as follows,
"https://www.track-trace.com/post" or "here"
- The tracking number by FedEx can be traced in a few days after shipment in a web site as follows,
"https://www.fedex.com/en-jp/home.html"
- Please be noted the following in advance, because FedEx has a few requirement in some countries.
(1) In Australia, delivery to any PO Box is unavailable by FedEx. If your address contains PO Box, we may ship by EMS(Japan Post).
(2) In Russia, delivery to any personal address is often unavailable. If your address is not enterprise, we may ship by EMS(Japan Post).


- The tracking number by DHL can be traced in a few days after shipment in a web site as follows,
"https://www.logistics.dhl/jp-en/home.html"
- Please be noted the following in advance.
(1) If you select the Super Express Shipping by DHL, we may ship your order by the equivalent service such as FedEx International Priority for certain reasons.