[General Features]
The Grand Chef SP series achieve the three important functions for the first time. Extra razor-sharp, very light and surprisingly durable.
The knife is 100% entirely made of this special highest-grade quality material by Bohler-Uddeholm with the lowest impurities, that is forged in Japan to get higher hardness about HRC 61~62.
In addition to the better material, the blade is processed to get thinner for extra light weight.
So the knife lasts a very long time (longer than others!) as some professional chefs gave feedback,
"For the longer time I use it, I must have more understood the competitive advantage and sharpness durability and lightness of the Grand Chef."
In addition, the steel makes hard, sharp cutting edges with surprisingly easy re-sharpening, like Japanese traditional knives made of "Hagane".
[Product details]
- Blade Steel Type: Top Class High Carbon Stainless Steel by Bohler-Uddeholm
- Blade Edge : Dimpled, Double-Edged (50/50 balanced) for both right and left handed persons
*except single-edged Honesuki(Boning)
- Handle Material : POM (polyoxymethylene) Resign
- Brand NEW
- Made in JAPAN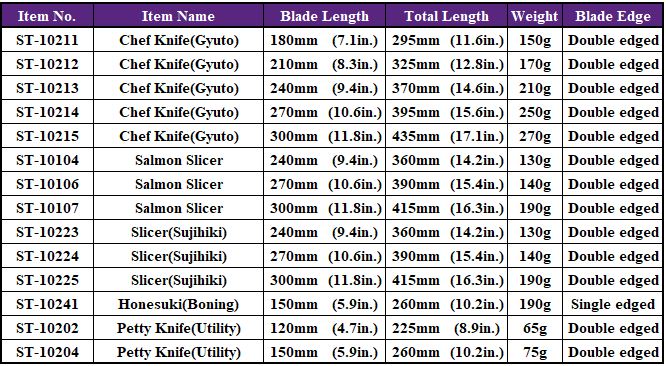 [about Sakai Takayuki]
Sakai Takayuki Knives has been cultivated through a long 600-year history in Sakai which is a city known best as a home of cutlery for the professionals in Japan. Each knife is hand sharpened to ensure maximum sharpness out of the box. We highly recommend you to once experience the Takayuki quality.


Express & Secure Shipping Service
Most of countries in the world is likely to be available for our shipment. We have a lot of delivery experience to the listed countries.

FedEx and EMS(Japan Post) are now available for Faster and more Secure delivery for your country.
Please check the expected delivery time >> JapanPost | FedEx
- The tracking number by Japan Post can be traced in a few days after shipment in a web site as follows,
"https://www.track-trace.com/post" or "here"
- The tracking number by FedEx can be traced in a few days after shipment in a web site as follows,
"https://www.fedex.com/en-jp/home.html"
- Please be noted the following in advance, because FedEx has a few requirement in some countries.
(1) In the U.S. and Canada, delivery to any PO Box is unavailable by FedEx. If your address contains PO Box, we may ship by EMS(Japan Post).
(2) In Russia, delivery to any personal address is often unavailable. If your address is not enterprise, we may ship by EMS(Japan Post).