[General Features]
Misono is one of the most well-established knife producers of Western-style Japanese professional chef's knives for decades in Seki-city of Japanese sword capital with 800 years tradition.
After years of fine tuning and consultation with professional chefs, Misono released the 440 series.
Professinal's demands are high level of quality control, rust resistance, cutting performance and easier to resharpen.
But these demamds are trade-off and difficult to find the knife which exactly fits well for all of them.
Misono successfully answered the difficult demands by this 440 series of high quality and basic design kitchen knives.


[Product details]
The new 16 Chrome Molybdenum steel in this line increases edge retention, rust resistance and is easy to sharpen.
Sub zero treated blades give added edge life and durability and the water resistant wood handles are comfortable and easy to grip.
The curved handles, blade design and center balance will not tire your hand even after long hours of use.

Blade Steel Type : High 16 Chromium and Molubdenum Stainless steel
Blade Edge Shape : Double Bevel Edge 70/30
Hardness Rockwell C scale : 58-59
Handle Material : Composite Wood
Brand NEW
Made in JAPAN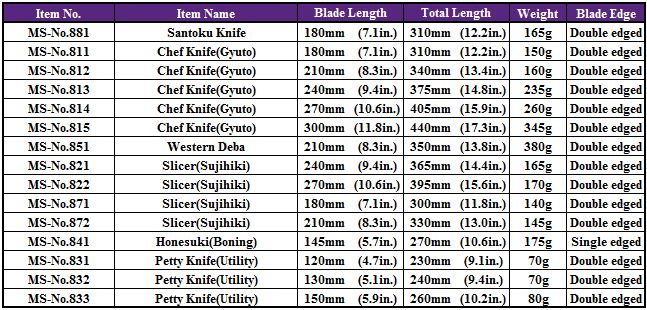 Express & Secure Shipping Service
Most of countries in the world is likely to be available for our shipment. We have a lot of delivery experience to the listed countries.

FedEx and EMS(Japan Post) are now available for Faster and more Secure delivery for your country.
Please check the expected delivery time >> JapanPost | FedEx
- The tracking number by Japan Post can be traced in a few days after shipment in a web site as follows,
"https://www.track-trace.com/post" or "here"
- The tracking number by FedEx can be traced in a few days after shipment in a web site as follows,
"https://www.fedex.com/en-jp/home.html"
- Please be noted the following in advance, because FedEx has a few requirement in some countries.
(1) In the U.S. and Canada, delivery to any PO Box is unavailable by FedEx. If your address contains PO Box, we may ship by EMS(Japan Post).
(2) In Russia, delivery to any personal address is often unavailable. If your address is not enterprise, we may ship by EMS(Japan Post).