[General Features]
Masamoto knives have been historically used as the Highest-Integrity Professional Chef Knife Brand in Japan (refer to the bottom of this page).
Masamoto "KS" Hon-Kasumi Gyokuhaku-ko (White Steel) series are made to put soft kitchen knife iron on traditional TAMA-HAGANE which is made with the much-treasured secret the materials of the iron selected carefully from Masago iron sand of the historical San-in district in Japan.
Sharpness, Soft usage feeling and Unparalleled durability supported by the experience through history of more than 100 years. The high carbon blade has extremely hard and sharp edge, but requires special care to avoid rusting and chipping.
The Buffalo Tsuba equipped to the handle is represent high-quality and excellent durability, that means made for professional originally. But it is highly recommended for Gift as well as for your better cooking experience.
(Please be noted that the buffalo tsuba (guard) is a natural product that possibly different from the image in color.)


[Product details]
- Blade Steel Type: High Carbon Steel [Gyokuhaku-ko (White Steel)]
- Optional : Magnolia Saya Sheath with Masamoto Logo >>Check Saya
- Brand NEW
- Made in JAPAN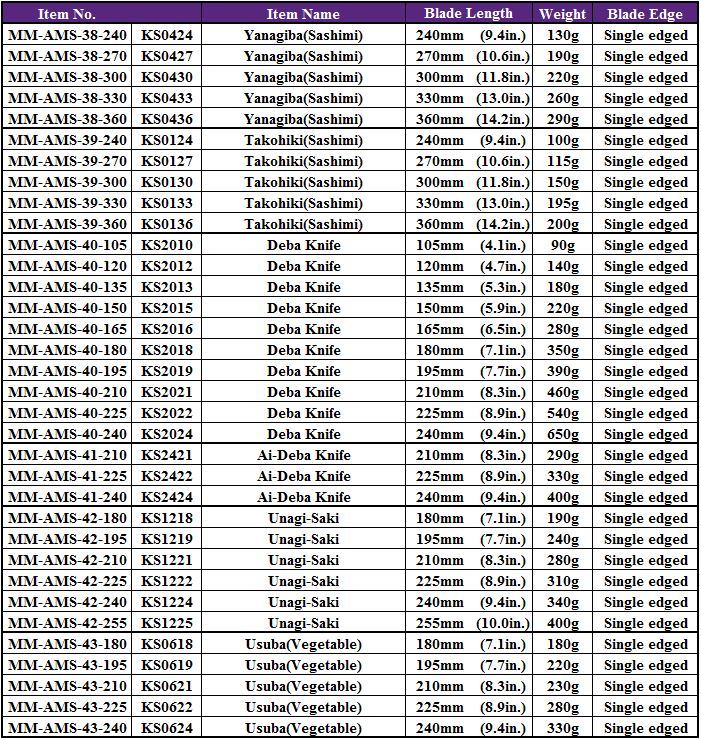 [about Masamoto]
Over 150 years, Masamoto knives have been used as the Highest-Integrity Professional Chef Knife Brand in Japan. Their technique achieves No.1 Sushi Chef Knife Manufacturer name in Japan and also in the entire world. If you are a professional Sushi Chef, you must have heard the name of MASAMOTO at least once.
We highly recommend Masamoto Knives for your best cooking as well as GIFT for Anniversary, because it represents "The Preimier Grand Gru" silently.