[General Features]
The Shigeki Tanaka Aogami Damascus series feature beautiful Damascus-patterned blades with a core of Blue Paper (Aogami or Aoko) No.2 Steel, known as prime high carbon steel, specifically developed for tools and knives.
This material has highest wear resistance and toughness because of special hardness (hardness of 63-64 HRC). Very good choice for high end Japanese kitchen knives.
These masterpieces are carefully forged & finished by the blacksmith Shigeki Tanaka with his own hands for their top-rate cutting performance.
Moreover, the blade shows its stylish arched shape(*), recreating the element of the traditional Japanese swords (* for Sakimaru Takohiki)
[Handle]
Speaking to the Magnolia Wood handle, the Japanese-Style D-shaped figure fits better comfortably to your hand.
The buffalo tsuba equipped to the handle represents high-quality and excellent durability, that means made for professional originally.
(Please be noted that the buffalo tsuba (guard) is a natural product that may possibly be different from the image in color.)
We recommend this high-class kitchen knife series for professional chefs to enhance their art of cooking as well as for Perfect Gift.
[Product details]
- Blade Steel Type: High Carbon Steel [Aoko or Blue Paper (Aogami) 2 steel] Core with Multi Layered Damascus Texture
- HRC (Hardness on Rockwell scale C): 63-64
- Blade Edge : Single-Edged for right handed persons
- Handle Material : Magnolia Wood with a Buffalo horn ring
- Box : premium Paulownia (Kiri) Wood Box
- Brand NEW
- Made in JAPAN
*** Please be noted that it may take a few months to restock if the item should not be available, because this series is made-to-order by skilled blacksmiths.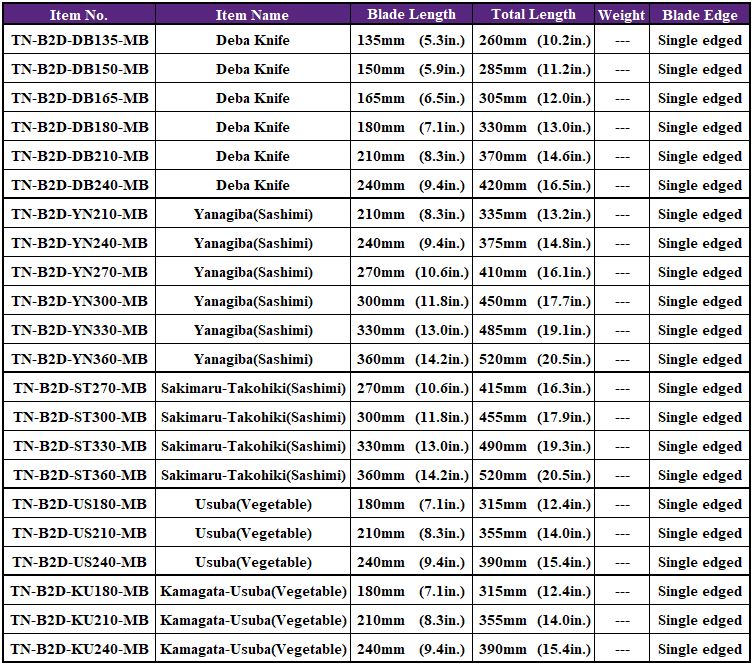 [About Shigeki Tanaka]
Tanaka knives are made in a traditional workshop at Miki City in Hyogo by Shigeki Tanaka and a small crew of his employees.
Each Tanaka knife is hand-forged in the traditional way, as it has been done for hundreds of years in Japan.
The blacksmith is turning out excellent knives with unsurpassed Japanese blade knowledge and expertise handed down from generation to generation for centuries.
Express & Secure Shipping Service
Most of countries in the world is likely to be available for our shipment. We have a lot of delivery experience to the listed countries.

FedEx and EMS(Japan Post) are now available for Faster and more Secure delivery for your country.
Please check the expected delivery time >> JapanPost | FedEx
- The tracking number by Japan Post can be traced in a few days after shipment in a web site as follows,
"https://www.track-trace.com/post" or "here"
- The tracking number by FedEx can be traced in a few days after shipment in a web site as follows,
"https://www.fedex.com/en-jp/home.html"
- Please be noted the following in advance, because FedEx has a few requirement in some countries.
(1) In the U.S. and Canada, delivery to any PO Box is unavailable by FedEx. If your address contains PO Box, we may ship by EMS(Japan Post).
(2) In Russia, delivery to any personal address is often unavailable. If your address is not enterprise, we may ship by EMS(Japan Post).