[General Features]
TOJIRO Co., ltd, a Pioneer of Stainless Handle with 3 Layers Blade in Japan.This series are made by top level Japanese Process so that they have higher Quality and are very popular in Western countries such as Europe and United States.
The all stainless Japanese knives are made with an inner core of VG-10 stainless steel sandwiched between a layer of softer stainless for an exceptionally sharp and smooth cutting experience.

Moisture-resistant grip is designed for long-time comfort and better control to resist slip with water or oil.
Integrated handle of stainless steel with "Tornade Pattern" is quite sanitary, easy for sterilizing bacteria by hot water.
It is the all-around multi-tasking blade and great for so many jobs.

*We're pleased to announce that "FUJITORA" brand is developed only for Japanese domestic market, in response to Japanese quality-demanding customers' expectation. The product itself (specification and material) is the same as the TOJIRO "F-xxx"version.
>> Check the conventional version


[Product details]

Manufacturer : TOJIRO Co., ltd. (JAPAN)

Blade Steel Type: VG-10(Core), Cobalt Alloy Steel by 3-Layers Stainless Steel

Blade Edge : Double-Edged (50/50 balanced, available for left-handed-right-handed)




*Except Boning(FU-885) and Bread Slicer(FU-629) for Single Edged.




See the attached table below.

Handle Material: 18-8 Stainless Steel

Brand NEW

Made in JAPAN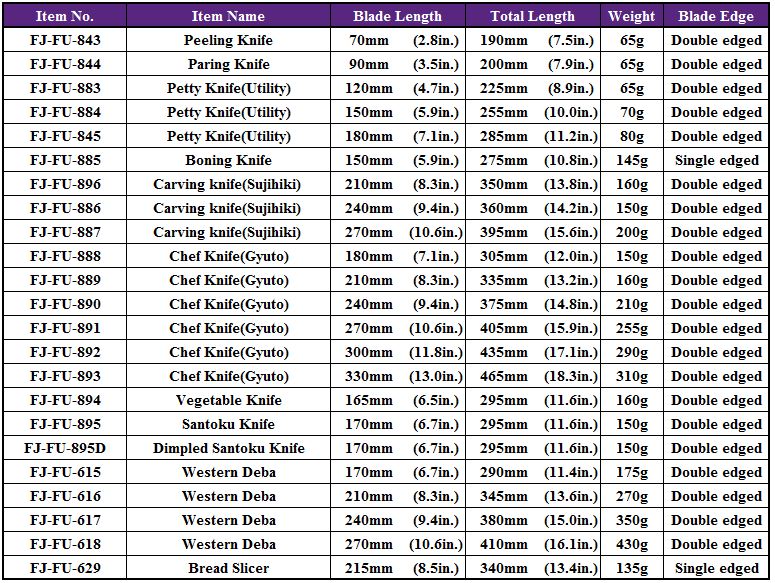 Express & Secure Shipping Service
Most of countries in the world is likely to be available for our shipment. We have a lot of delivery experience to the listed countries.

FedEx and EMS(Japan Post) are now available for Faster and more Secure delivery for your country.
Please check the expected delivery time >> JapanPost | FedEx
- The tracking number by Japan Post can be traced in a few days after shipment in a web site as follows,
"https://www.track-trace.com/post" or "here"
- The tracking number by FedEx can be traced in a few days after shipment in a web site as follows,
"https://www.fedex.com/en-jp/home.html"
- Please be noted the following in advance, because FedEx has a few requirement in some countries.
(1) In the U.S. and Canada, delivery to any PO Box is unavailable by FedEx. If your address contains PO Box, we may ship by EMS(Japan Post).
(2) In Russia, delivery to any personal address is often unavailable. If your address is not enterprise, we may ship by EMS(Japan Post).