[General Features]
*** Developed as the brother of the globally popular "ZEN", the JAPAN LIMITED Version are offered exclusively on the Japanese domestic market in response to Japanese quality-demanding customers' expectation. We highly recommend you to check the high quality "YO-U" series.***

The Yaxell ZEN knife is quite high quality, extremely sharp, hard, and durable for professional use.
The 37 Layers VG-10 and it's beautiful Hammered (Tsuchime) design must impress you by the details of it's well calculated, meticulous design.
Japanese Damascus VG-10 High Carbon Molybdenum Vanadium Cobalt Steel is enveloped by 18 layers on one side with soft and hard stainless steel.

[Special Production Process]
Yaxell blades are heated in a kiln to a very high temperature and then ice-hardened.
They are then tempered again at a high temperature to make the blade strong, durable and corrosion-resistant for long-lasting performance.

[Handle]
The handle is so easy to grip and it's weight is very well balanced.
It is constructed of FDA approved black canvas-micarta, an odorless, enormously durable material made of resin and linen that will last decades.
The end of the handle is stainless steel, which gives the knife outstanding stability.

[About Yaxell]
Yaxell - TOP quality brand in Japan since 1932, combining the best of advanced technology
with unsurpassed Japanese blade knowledge and expertise handed down from generation to generation for centuries.
Manufacturer recommends sharpening with the Yaxell Gou Sharp Pro knife sharpener, a Japanese water stone, or a diamond steel honed for sharpening.

Bevel : Double Beveled for Both Right-handed and Left-handed

Brand NEW

Made in JAPAN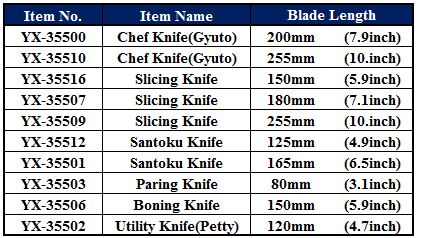 Express & Secure Shipping Service
Most of countries in the world is likely to be available for our shipment. We have a lot of delivery experience to the listed countries.

FedEx and EMS(Japan Post) are now available for Faster and more Secure delivery for your country.
Please check the expected delivery time >> JapanPost | FedEx
- The tracking number by Japan Post can be traced in a few days after shipment in a web site as follows,
"https://www.track-trace.com/post" or "here"
- The tracking number by FedEx can be traced in a few days after shipment in a web site as follows,
"https://www.fedex.com/en-jp/home.html"
- Please be noted the following in advance, because FedEx has a few requirement in some countries.
(1) In the U.S. and Canada, delivery to any PO Box is unavailable by FedEx. If your address contains PO Box, we may ship by EMS(Japan Post).
(2) In Russia, delivery to any personal address is often unavailable. If your address is not enterprise, we may ship by EMS(Japan Post).