[General Features]
Tamahagane Stainless Knife series are quite high quality, extremely sharp, hard, and durable for professional use. It's beautiful design must impress you by the details of it's well calculated, meticulous design. The Core layer is VG-5, High Carbon Molybdenum Vanadium Steel, is enveloped by a layer of SUS410 (13 Chrome Stainless Steel) on one side. The powdered steel contains a lot of carbon and has an unprecedented hardness of approximately 61 Rockwell.

Tamahagane SAN series are distinctive yet classic while fitting very comfortably in your hand. The edge of the blade is hand-finished (fine-grinded by hand) one by one with waterstones. The beveled edge features an angle between 14 and 15 degrees. Features an incredible mirror polish finish with perfect balance between sharpness and strength.

The handle body is made from plywood strongly-pressed and you feel a sense of easy holding and the wooden warmth. Kept clean by hand wash, the quality can be maintained in better condition for longer use. It is so easy to grip and it's weight is very well balanced, that has the Metal Tsuba to fully seal between the blade and the handle, to keep the knife sanitary.


[Product details]
Manufacturer : Kataoka (JAPAN)

Blade Steel Type: Molybdenum-Vanadium VG-5 Steel (Core) enveloped by 13 Chrome Stainless Steel

Blade Edge : Double-Edged (50/50 balanced, available for left-handed-right-handed)


*Please be noted that there are exceptions. See the attached table below.
Handle Material : Brown Compressed Laminated Wood

Brand NEW

Made in JAPAN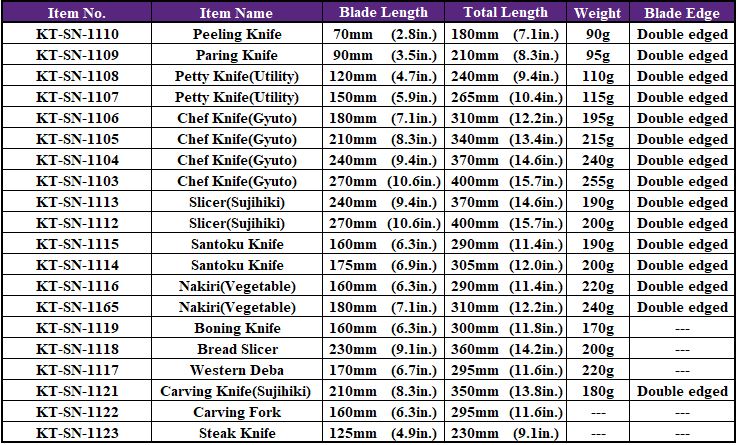 Express & Secure Shipping Service
Most of countries in the world is likely to be available for our shipment. We have a lot of delivery experience to the listed countries.

FedEx and EMS(Japan Post) are now available for Faster and more Secure delivery for your country.
Please check the expected delivery time >> JapanPost | FedEx
- The tracking number by Japan Post can be traced in a few days after shipment in a web site as follows,
"https://www.track-trace.com/post" or "here"
- The tracking number by FedEx can be traced in a few days after shipment in a web site as follows,
"https://www.fedex.com/en-jp/home.html"
- Please be noted the following in advance, because FedEx has a few requirement in some countries.
(1) In the U.S. and Canada, delivery to any PO Box is unavailable by FedEx. If your address contains PO Box, we may ship by EMS(Japan Post).
(2) In Russia, delivery to any personal address is often unavailable. If your address is not enterprise, we may ship by EMS(Japan Post).