[General Features]
Takeshi Saji SG2/R2 Makie-Art series feature Damascus-patterned blades with a core of SG2 (Super Gold 2 or R2) Micro Carbide Powder Stainless Steel for professional with a hardness of approx. 63 HRC, which provides excellent rust resistance and a long-lasting edge as well as its beautifulness and unique design with custom-made feeling.
The surface of the blade is diamond-mirror-finished to highlight the Damascus texture for more elegance.

On the beautifully Japanese lacquered (Urushi-nuri) saya sheath and handle, the traditional decorative Maki-e artwork of "FUJIN RAIJIN (the Wind and Thunder Gods)" is carefully hand-drawn by Master Kouichiro Tsukada.
The collaboration by the master blacksmith Takeshi Saji and the Maki-e master Kouichiro Tsukada is very unique to bring the masterpiece into creation successfully.
(Please be noted that the Maki-e artwork may possibly be different from the image in color.)
The masterpiece is the best for your perfect present and collection as well as cooking for the highest ceremony.
[Product details]
- Blade Steel Type : Multi-Layered Damascus SG2 (Super Gold 2 or R2) Micro Carbide Powder Stainless Steel Core
- Blade Edge : Double-Edged (50/50 balanced, available for left-handed-right-handed)
- Hardness Rockwell C scale (HRC) : approx. 63
- Handle Material : Japanese lacquered (Urushi) handle with Maki-e Art and metal bolster
- Saya : Japanese lacquered wood saya sheath with Maki-e Art is included
- Brand NEW
- Made in JAPAN
- Knife Type: Gyuto Knife
- Blade Length: 210mm (8.3in.)
- Total Length: 360mm (14.2in.)
- Weight: 250g

*** The images in this page are of the sample products. Colour, weight, pattern and size may differ because each product is handmade.
*** Please be noted that it may take a few months to restock if the item should not be available, because this series is made-to-order by skilled blacksmiths.
[about Takeshi Saji]
Takeshi Saji is the leading blacksmith in Echizen. Saji was born in Takefu in 1948 in a family of second-generation smith. In 1992, he was officially certified as a "Traditional Master Craftsman" by the Japanese "Ministry of International Trade & Industry".
His knife blades are shaped by traditional hammer-forging technique with his unique ideas and designs, to achieve a beautiful, powerful appearance and a quite sharp cutting edge with better hardness.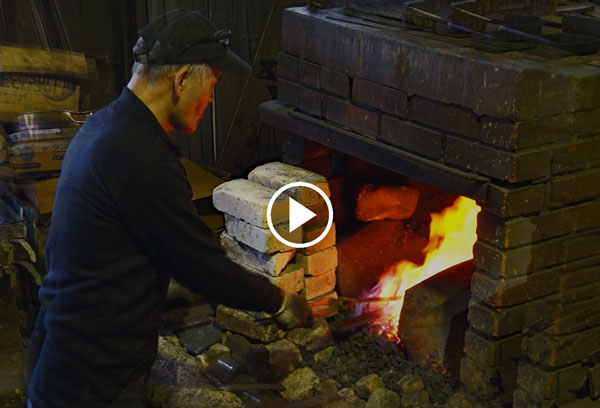 "Echizen" is the historical area in Fukui prefecture, including Takefu city, as one of Japanese important knife capitals.
The kitchen knives made in the Echizen is called Echizen Uchi Hamono. The art of making Japanese kitchen knives has a history of about 700 years.
Echizen Uchi Hamono is designated as "Traditional Crafts" by the Minister for Economy, Trade and Industry.
Express & Secure Shipping Service
Most of countries in the world is likely to be available for our shipment. We have a lot of delivery experience to the listed countries.

FedEx and EMS(Japan Post) are now available for Faster and more Secure delivery for your country.
Please check the expected delivery time >> JapanPost | FedEx
- The tracking number by Japan Post can be traced in a few days after shipment in a web site as follows,
"https://www.track-trace.com/post" or "here"
- The tracking number by FedEx can be traced in a few days after shipment in a web site as follows,
"https://www.fedex.com/en-jp/home.html"
- Please be noted the following in advance, because FedEx has a few requirement in some countries.
(1) In the U.S. and Canada, delivery to any PO Box is unavailable by FedEx. If your address contains PO Box, we may ship by EMS(Japan Post).
(2) In Russia, delivery to any personal address is often unavailable. If your address is not enterprise, we may ship by EMS(Japan Post).